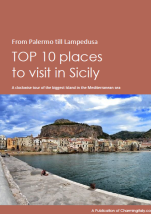 All we know that Sicily is the largest Island in the Mediterranean Sea. But we ignore, maybe, that it boasts 6 of the biggest Archeological Unesco sites, 5 blue flags on 2012, 11 Michelin Restaurants, just to cite a few numerical details.

Browse our free eBook and discover Sicily:
a unique cultural and historical heritage
a strong culinary tradition
a great sense of hospitality
Download the Top 10 Places to visit in Sicily for free!